Targeted Facebook Advertising for Holiday Parks: Unlocking the huge lead generational potential
---
Without doubt, targeted Facebook advertising is one of the most powerful tools in any holiday park's marketing armoury. With potential target a range of key demographics that match your customer profiles, those who know how to utilise this powerful tool can achieve some truly amazing results.
How Facebook Advertising does it work?
Facebook and Instagram (who is owned by Facebook) have a powerful suite of advertising tools that can be used to achieve a number of results. These are all objective-based and are split into three categories, Brand awareness, Consideration and Conversion. Different types (e.g video, image, slideshows) of advert can be used on all the objectives and part of the skill in creating these adverts is matching the right objectives to the right type of advert that has the right message. Yes, that's a lot of 'rights' but when you get it exactly right, the effects are extremely powerful.
Brand Awareness Objectives
This objective basically does what it says on the tin. Facebook uses a number of methods to get your brand's message to as many people that match your desired audience. Facebook will prioritise these adverts on your target demographics' newsfeed and showcase your brand/product. This objective does not encourage users to take action, it focuses on getting the furthest possible reach for your park's brand.
Consideration Objectives
This set of objectives uses a number of techniques to get your holiday park in front of your target customers and puts your park up for their 'consideration'.
Traffic – drives traffic to a specific web destination of your choice – e.g. Your Park's bookings page
Engagement – Gets Facebook users to comment, share or like a certain Facebook post – e.g. You may be running a competition that requires users to like and share the post
Video Views – Shares your videos with users most likely to watch it – perfect for promoting your video content which is a key part of any social media strategy
Lead Generation – Invites Facebook users to share their information with you so they can be contacted about your Park – this method is perfect for advertising holiday home sales – more on that later.
App Installation – Invites users to download your mobile app – Perfect for promoting your Park's mobile app. If you don't have an app, our white label app designed specifically for holiday parks is definitely worth investigating.
Facebook Messages – Invites users to use Facebook's messenger system to send your business messages. This is great if you're looking to engage with your customers on a more informal level
Conversion Objectives
Conversions – encourages users to carry out specific actions on your website. For example, this objective would be perfect for getting users to book a holiday at your park or book a holiday home sales appointment.
Catalogue Sales – If you have an e-commerce function on your website you can use Facebook's advertising tools to get users to add the advertised items to their basket.
Targeting: How to effectively reach your customers
You may have heard in the news about targeted adverts but what exactly does it mean and how can it be used to improve sales for your business.
Facebook allows you to target people based on a number of key demographics including age, gender, location, job type, interests and much more. This means you can really target your ideal customer very precisely which means they will be much more likely to engage with the advert. You can also tailor the message of your advert to the desired audience which also greatly increases their effectiveness.
You are also able to upload your current customer data into Facebook's advertising tools so it can target people that very closely match your current customer base. You can only upload data if you have consent from your customers to comply with GDPR.
Case Study
Now you have an idea of what types of outcomes can be achieved with Facebook's advertising tools, it's time to look at a real-life case study.
In July of 2018, we were tasked with finding a way to help Patrington Haven Leisure Park's sales team generate more holiday home sales leads.  We suggested using Facebook lead generation adverts as this would be able to target the right demographics and crucially, gather phone numbers of interested leads for the sales team to follow up.
We uploaded their customer data into the advertising tools and used this data to target the right kind of Facebook profiles to target.
We then created a number of different campaigns based a several of the Park's unique selling points which were then displayed across our target customer's newsfeeds. Within weeks, we were helping them generate unprecedented lead volumes and in turn, a large number of sales. Since then we've launched a number of different campaigns to help drive holiday home sales which have taken the park to its lowest number of empty pitches since it opened in 1983.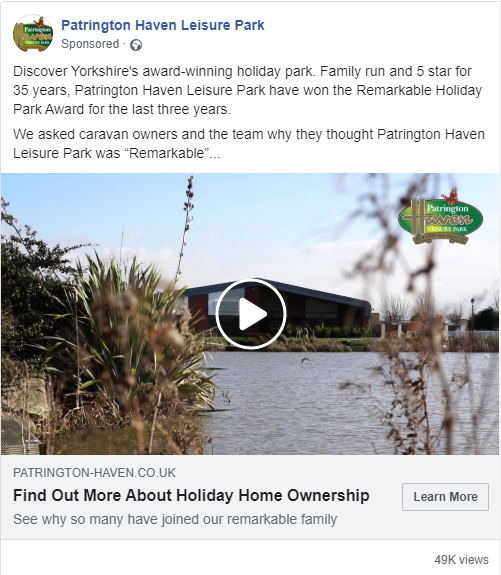 The Stats
Since July 2018 we have…
Generated 2821 leads (name, phone number, and email) at an average cost of £7.16 per lead
Shown the park's adverts to over 300,000 people
Increased the park's holiday home sales by 28% If you'd like to discover more about how targeted Facebook advertising can help take your holiday park or leisure business to the next level.